Love is now electric.
The next evolution of Subaru power is here. The Subaru all-electric vehicle lineup starts with the all-new 2023 Subaru Solterra EV SUV, but there is much more to come. A Subaru EV takes all of the Symmetrical All-Wheel Drive capability, advanced active safety technology, and trusted longevity and reliability that Subaru vehicles are known for and combines them with the next-generation e-Subaru Global Platform, a new all-electric vehicle architecture.
We've made it easy to understand and access the conveniences an EV gives you, like charging at home or through our trusted networks, leaving you more freedom to explore.
Charging a Subaru EV: quickly, easily, and right nearby.
Owning a Subaru EV is all about freedom - the freedom from the impact of fossil fuels, the freedom to reach places only a Subaru can go, and the freedom to charge how and where it's most convenient for you. A Subaru EV can be a perfect fit for your life, no matter how you want to charge it.
Charging Flexibility at Home and On the Go
With a Subaru EV, you can leave home each morning with a full charge so you're always ready to go anywhere. Just like your smartphone, you can simply plug in to a standard wall outlet when you get home with the included Level 1 120V charger and wake up to a fully charged battery. You can get an even faster charge by using a Level 2 240V charger - like the kind used for an electric clothes dryer. Other Level 2 chargers are available for public or customer use at retail stores, hotels, and parking lots.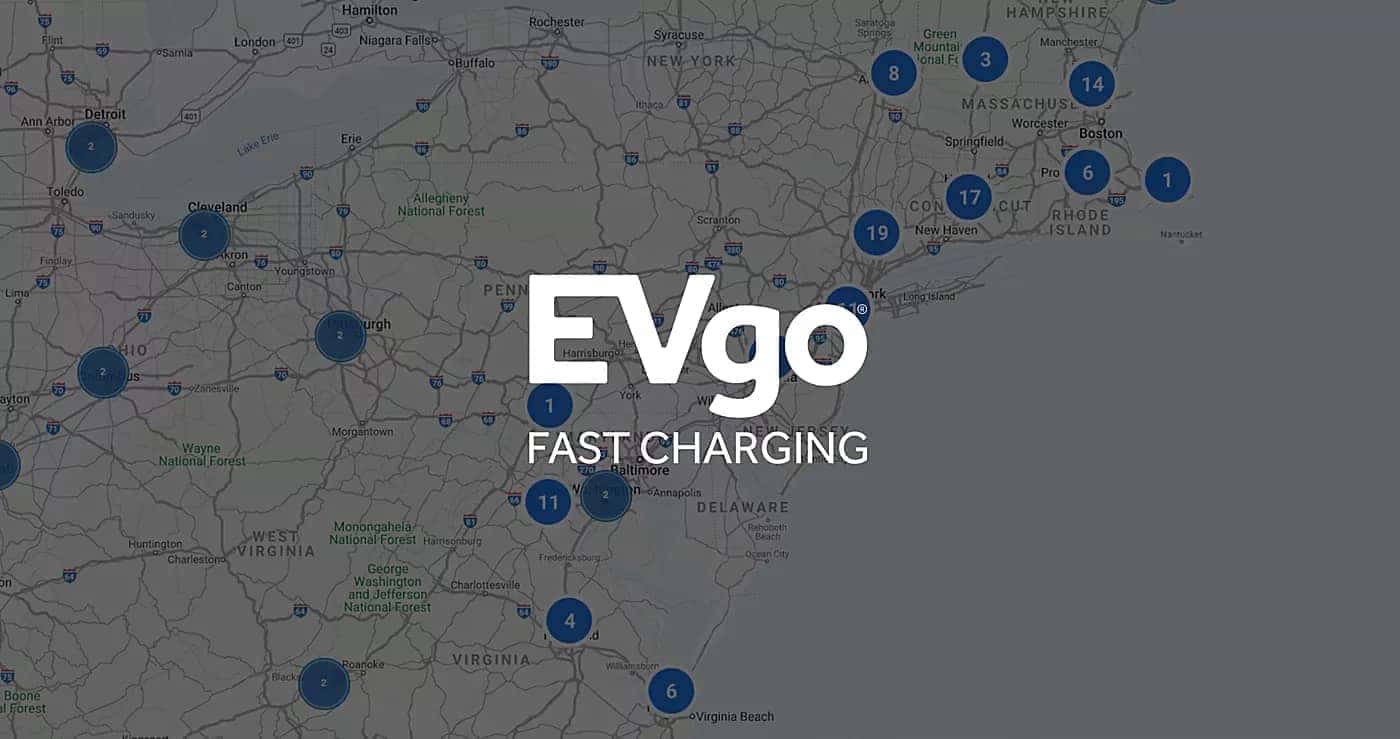 Charge Up at Over 38,000 Charging Stations
Whether you're heading across town or the entire country, you'll have access to over 38,000 public charging stations - including super-fast Level 3 DC chargers that can charge up to 80% of your battery capacity in under an hour.
Subaru EV Benefits
Saving money on gas and the environmental benefits of a zero-emission vehicle are obvious, but there are other reasons why driving a Subaru EV can be so rewarding. From tax credits to reduced maintenance costs to a more pleasant commute, buying a Subaru EV is a smart investment for the long road ahead.
Zero Tailpipe Emissions
With no tailpipe emissions and no need for gasoline or oil changes, owning an efficient, capable Subaru EV is the easiest way to enjoy everything the natural world has to offer while protecting it at the same time.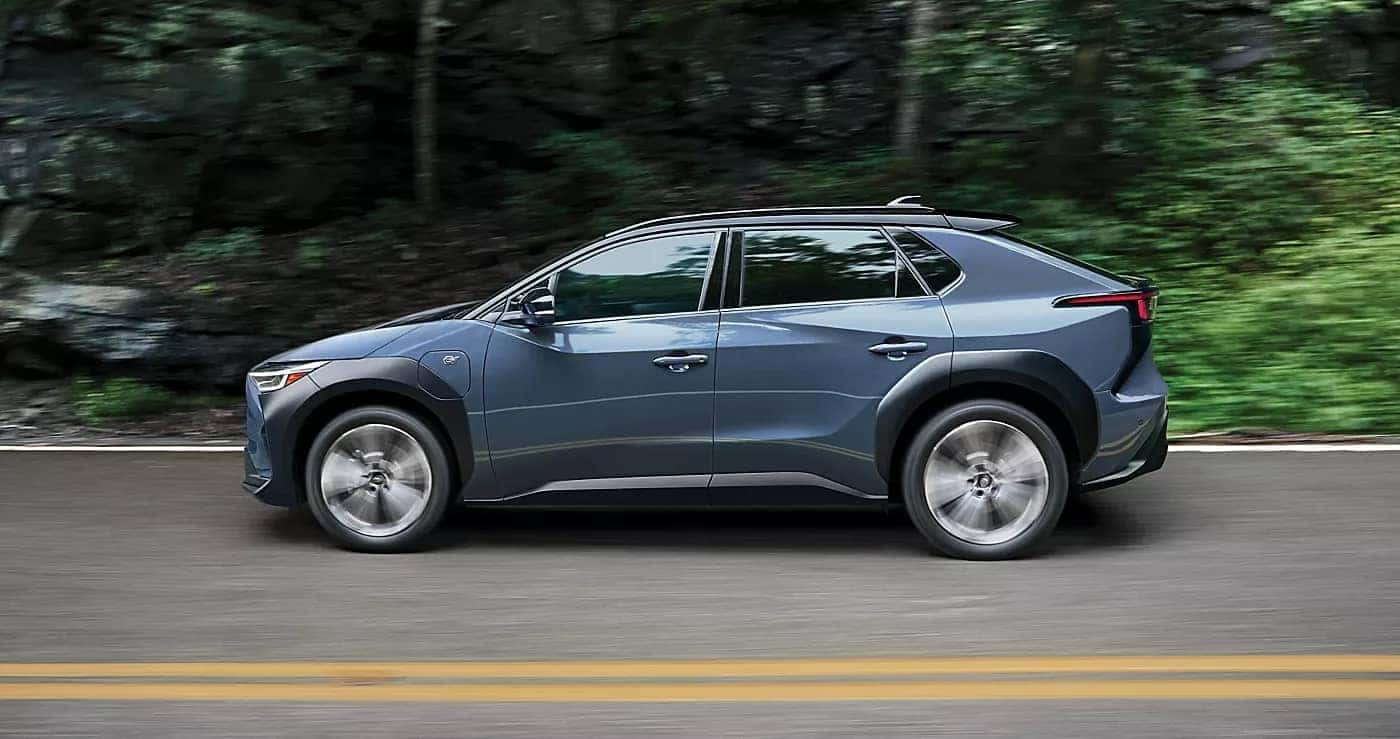 Up to $7,500 in Federal Tax Credits
Owning a Subaru EV means you can take advantage of federal tax credits of up to $7,500, and there are even more possible tax credits, incentives, and discounts you can claim, depending on your location and employer.
Learn more at fueleconomy.gov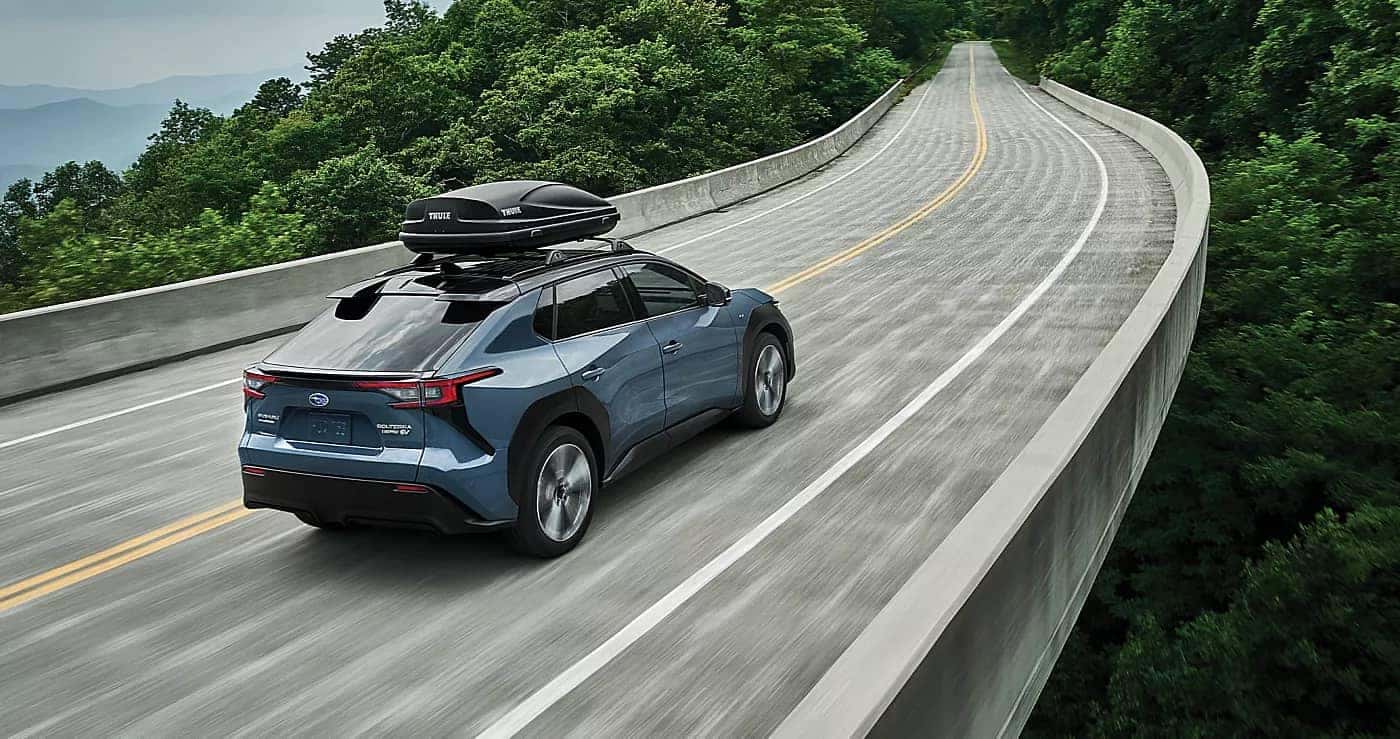 Fuel and Time Savings
No combustion engine means no need for fuel or other petroleum products, and if you charge at home, you can expect to only pay approximately $9 to $10 for a full charge[1], which is a huge savings compared to even the most efficient internal-combustion vehicles. Plus you save on time, since there's no need to stop for gas on the way, making it one less thing you - and your wallet - need to worry about on your commute.
Maintenance Savings
A Subaru EV is not only more efficient than a traditional combustion engine vehicle, it's also simpler to maintain and doesn't require the same petroleum lubricants for its engine parts. And that doesn't even take into account the time spent waiting for regular maintenance like oil changes. Keep in mind that while a Subaru EV can help you save significant amounts on maintenance, you still need to stay on top of other basic services like tire rotation, brake pads, wiper blades, and other items that wear out or need regular servicing.
HOV Lane Access for a Better Commute
Certain states allow electric vehicles to access high-occupancy vehicle lanes. It's just one more way owning a Subaru EV can make everyday driving easier and more enjoyable.
2023 Solterra Models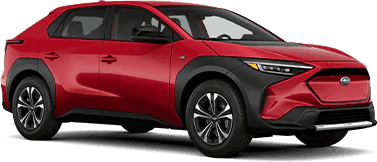 Premium
Subaru Symmetrical All-Wheel Drive
8.3 inches of Ground Clearance
X-MODE and Hill Ascent/Descent Assist
StarDrive Zero-Emissions All-Electric Drivetrain
EyeSight Driver Assist Technology
Automatic Climate Control
Blind-Spot Monitoring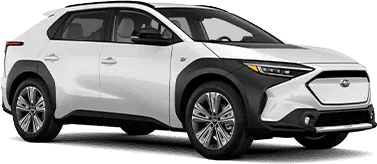 Limited
Includes all Premium features and adds:
Heated Front/Rear Seats
StarTex-Trimmed Upholstery
Heated Steering Wheel
12.3-inch Multimedia System with Wireless Apple CarPlay® and Android Auto™ Integration
Cloud-based Navigation and Voice Assistant Capability
Wireless Device Charging
Auto-dimming Rearview Mirror with Homelink®
Harman Kardon® Premium Audio Speakers
360-degree Surround-View Camera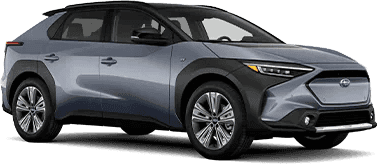 Touring
Includes all Limited features and adds:
Glass Roof with Dual Retractable Sunshades
Ventilated Front Seats
Display Rearview Auto-dimming Mirror
Interior Illuminated Trim
Available Two-Tone Roof Paint
FAQ
What is an electric vehicle (EV)?
Electric vehicles (EVs) have a battery instead of a gasoline tank and an electric motor instead of an internal combustion engine.
What are the benefits of owning an EV?
Fuel is not required in EVs, so you can feel good about owning an environmentally friendly vehicle that does not emit pollutants. Plus with no need for fuel, you can save on the cost of gas and no longer need to worry about filling up at the gas station. EVs also offer instant torque for better performance, have lower maintenance costs, and are quieter as there are no engine vibrations.
What type of charger do I need to charge the Subaru Solterra at my place of residence?
The Subaru Solterra can be changed at your home using a Level 1 120V charger or a Level 2 240V charger. We recommend charging your battery every night, just like your smartphone, so you're always ready to go anywhere with a full charge. A Level 1 charger is included with your Solterra or you can get a Level 2 240V charger professionally installed in your home for an even faster charge.
What type of charger do I need to charge the Subaru Solterra when I'm out and about? How do I find this type of charging station?
Since your Solterra can go more than 220 miles on a full charge, the need to charge while running errands should not be a common occurrence. However, if you do need a charge away from home, your best bet is a Level 3 DC fast charger with a CCS plug. The super-fast DC charger can charge up to 80% of your battery in under an hour. When you're out on an adventure to over 38,000 public charging stations across the country with Level 2 or Level 3 DC fast-charge options.
What incentives are there to buy an EV?
A federal tax credit incentive of up to $7,500 is available. Additional incentives, tax credits, and discounts may be available based on your location and employer. Make sure to look into your state's information about electric vehicles.
Are EV batteries recyclable?
Yes! When the time comes for a replacement, you can work with your Subaru retailer to find a way to recycle, remanufacture, or repurpose your old battery.